This page contains a list of project proposals/ideas for doing a MSc Thesis at DTU Compute with me as a supervisor. Before you look at these projects, please make sure that you have an academic background that fits my profile by reading my page on how to do a MSc Thesis with me.
Most of the following student projects are tied to my current research within personal health technology, which all take place in the Copenhagen Center for Health Technology.
Below is a list of project ideas for inspiration. However, we would always define your specific project according to your skills and interests, and the available empirical setting.
---
CampusLife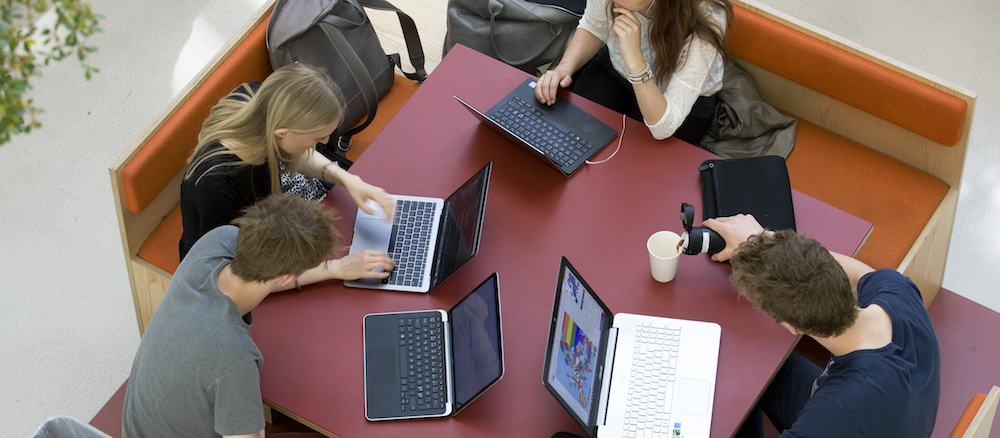 General health and in particular mental health amongst young has become of increasing topic of interest. For example, the latest report from the Danish Health Authorities (Sundhedsstyrelsen) found that for Danes, "health is moving in the wrong direction". There are significant problems with obesity, mental health, stress, smoking, and alcohol intake amongst in particular young people. This has spun significant political debate regarding the mental health amongst students.
CampusLife (which is a continuation of the StudentLife project) is the name of an international collaboration which also involves universities from the US, the UK and EU. The aim is to create a peer-to-peer setup in which students help students enabled by technology. Within the framework of CampusLife, there is a number of project available to engage in. These are listed below.
CampusLife Health Survey Tool
The purpose of this project is to built a general-purpose health survey platform/tool for health in general. A core part of this project is to establish:
Which health parameters to assess. These could include physical health (physical activity, BMI, heart-rate, …); mental health (stress, mood, anxiety, …); drug & alcohol; social network and relationships; etc.
How to assess them. This could include phone-based sensors (e.g. step counters), phone apps (e.g. for sleep monitoring), wearables (e.g. smart watches), questionnaires, surveys, etc.
This project will built upon the CACHET Research Platform (CARP) and an important part of the project is to help develop, use, and test CARP. The CARP backend is done in Spring Boot (i.e. Java EE) and the CARP phone sensing part is done in Flutter (i.e. Dart). These are hence the technologies you will work with.
Thesis type: Software implementation with a small user study.
Technical skills: Requirement analysis; UX design, system software design, software implementation in spring and flutter; Usability evaluation.
Research skills: Software Engineering; Human-Computer Interaction; Ubiqutous Computing.
CampusLife Health Survey @ DTU
Once we have the survey tool ready for use (see above), the next step / project is to collect a 'significant' amount of data from your fellow students and start analysing it. Focus will be on:
Design of the study – what to collect, how to collect it, who to involve.
Recruitment of a large group of DTU students
Data collection and management (including ensuring consents and privacy).
Data analysis and visualisation.
You would probably focus on a particular health area, such a physical health, mental health, stress, or similar.
This project will use the survey tool designed above. This has, however, been designed and developed by other fellow students, and some adatation, enhancement, maintenance and bug fixing may be expected.
Thesis type: A large user study with data analysis.
Technical skills: Study design; data management; data analysis; social network analysis; data visualisation.
Research skills: Data Science; Human-Computer Interaction; Information Visualisation
CampusLife Alchohol
Andrea Quemada Lopategui (a former MSc student) developed the DropIt personal health technology for tracking and reducing alcohol consumption. You can read about it in her MSc Thesis (which, by the way is an excellent example of what a thesis should look like).
DropIt was subject to a small feasibility study. However, a larger study would be necessary to investigate alcohol habits amongst DTU students. In this project you should run a larger study of DropIt (including potentially modifying it, if needed).
Thesis type: A large user study with data analysis.
Technical skills: Study design; data management; data analysis; social network analysis; data visualisation.
Research skills: Data Science; Human-Computer Interaction; Information Visualisation
CampusLife in Sports
This project will focus on working with DTU Sport to survey and increase physical activity amongst DTU students. A particular focus should be on getting less 'sporty' students involved in health physical activity. One place to start, could be the DTU relay run where you could use technology to further engage students to this event – and train for it.
This project is very open for your own interests and skills.
---
CACHET Research Platform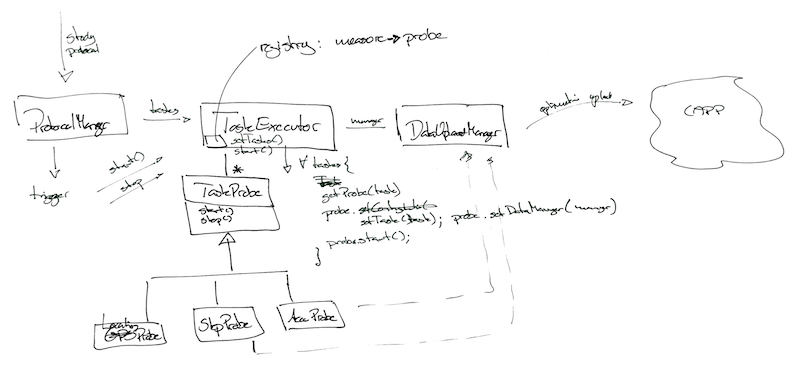 In CACHET, we're building a general-purpose research platform (CARP) for the collection, management, and analysis of personal health data. As part of CARP, there are a number of thesis projects available, including the following:
Adding data collection capabilities to CARP (called 'probes'). The number of available probes are constantly evolving and there are the need for continuously adding more. These range from simple data collection probes (e.g. collecting step count), to advanced probes which utilised data analysis for e.g. activity recognition, to collection from wearable technology (e.g. fitbit). Data collection on smartphones is implemented in Flutter which will also be used in this project.
Researching new sensing modalities. How can data be collected from other kinds of sources such as voice-to-text analysis, images and videos, wearables, special-purpose hardware, environmental sensors, home-based sensors, digital assistant (Google Home / Amazon Echo), etc.
---
Nutrition tracking

Currently, two main approaches for nutrition tracking are pursued today: (1) Database-driven applications, in which the user looks up the consumed food in a database. While this approach should result in precise nutritional values, entering food is cumbersome for the user e.g. for mixed meals. (2) In photo-driven applications, the user takes a picture of a meal which may be used for reflection and manual analysis, or for image analysis and automatic interpretation. Manual analysis is tedious; image-analysis remains challenging e.g. when differentiating yoghurt from whipped cream. Moreover, taking a picture of every meal is annoying and at least two photos before and after eating is needed.
In this project we would propose a 3rd option; weight-driven nutrition tracking in which you use a scale to measure the intake of food. Jakob Stoustrup – a professor in automation theory at AAU – has argued that just tracking the amount of food consumed is a "good enough" approximation for nutrition tracking. See his blog entry for at description of his "Closed-loop weight control: the power of feedback".
Thesis type: System implementation with a small user study.
Technical skills: Hardware prototyping (e.g. Arduino); System Software design and implementation.
Research skills: User-centered design; HW/SW co-design; Usability evaluation
---
Smartphone-based Heart Rate Monitor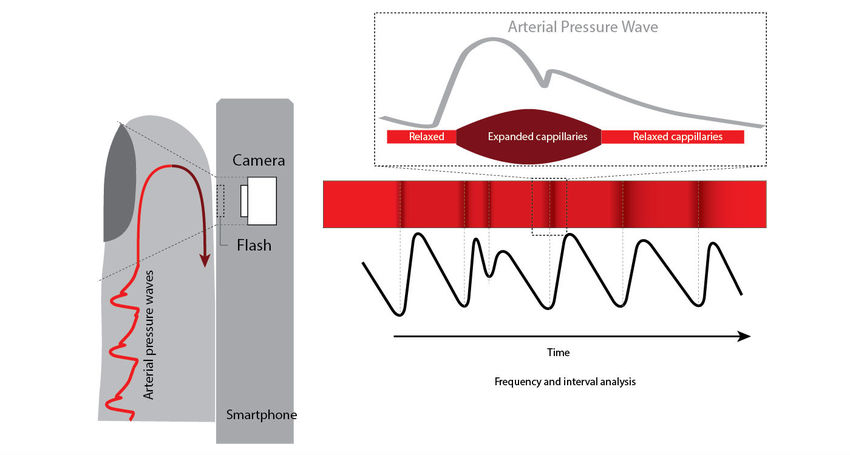 Based on the camera and flash of a smartphone, the idea is to create a photoplethysmogram (PPG) based monitor of heart rhythms. This should be implemented as a Flutter sampling package as part of the CARP Mobile Sensing framework (CAMS). A starting point might be this Medium article on "Measuring Your Heart Rate Using Your Phone's Camera and Flutter". The main idea is to
create the CAMS sampling package for PPG-based hearth rhythm monitoring
implement a small UI component to be added to the CAMS study app
run a smal (N=21) study demonstrating the technical feasibility
An additional part of the project would be to analyse the collected data for known hearth arrhythmias. This paper provides a good starting point for such a study: